SENTINARE FALL DETECTION CAMERA
Sentinare is a useful tool for senior care and remote patient monitoring as it detects and analyzes human activities to show health trends and send alerts for emergencies.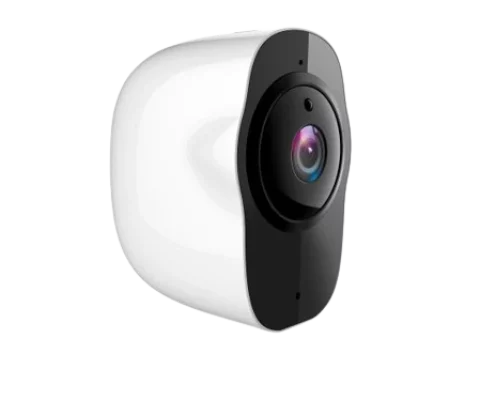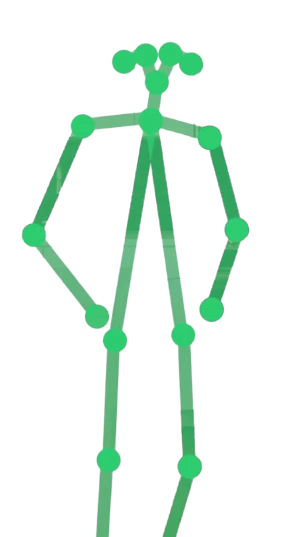 Stick-figure privacy monitoring.
The use of privacy-preserving stick figures is a method for transmitting information while protecting individuals' privacy. This technique allows sensors to be placed anywhere in the home without infringing on individuals' privacy. In contrast to videos, which can capture identifiable information about a person, stick figures provide a way to analyze movement and activity without compromising privacy.
Behavioral trend detection
Sentinare has the capability to identify basic activities, such as walking or sitting, which enables it to gather statistics and assist in recognizing patterns. By tracking and analyzing daily routines, Sentinare can identify trends in behavior that may signal changes in health status or an increased risk of falls or accidents.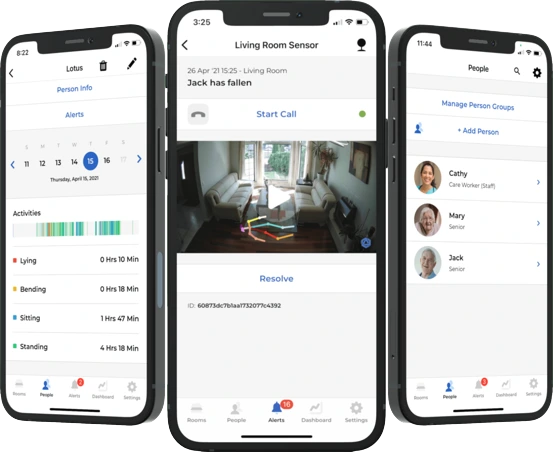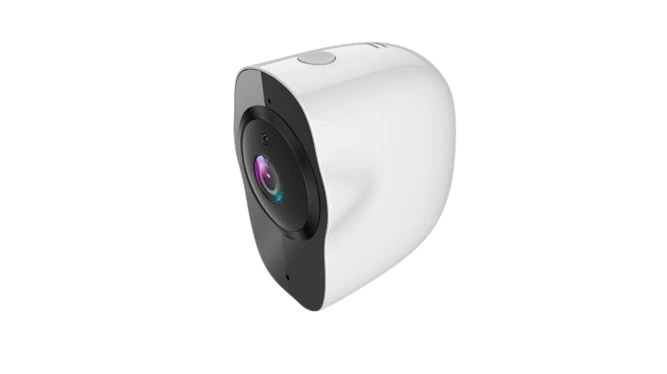 Fall prevention technology
Fall detection & prevention
Sentinare detects falls and performs risk assessments for seniors to prevent falls, which are a significant concern in Canada where 20-30% of seniors fall annually, with half of them occurring at home, allowing caregivers and healthcare providers to prevent falls and improve seniors' safety and well-being.
Customizable monitoring alerts
Monitoring a Specific Area
With the Sentinare app, you can customize and specify whom and what to monitor, enabling you to receive alerts when specific events occur. For instance, if you're caring for a dementia patient who is prone to wandering, you can set up a restricted region and receive an alert when the patient enters that area.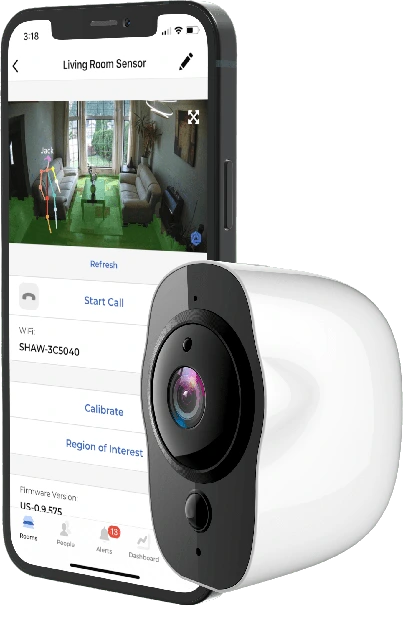 Stick-Figure Streaming & Recording: real-time or recorded streams from the app with privacy protection

Fall Detection & Risk Assessment: detects falls and performs assessments to prevent falls

Activity Recognition & Analytics: recognizes activities, collects stats, and identifies anomalies

Region-of-Interest Monitoring: monitors selected areas with restricted regions, overstay/absence detection, and entrance/exit alerts

Hand-Waving Detection: enables people to actively seek help by waving their hand in front of the sensor

Face Recognition: provides individual statistics and monitoring through facial recognition

Voice Call: allows checking on the conditions of loved ones via VOIP calls

Guest Accounts: invites secondary users to receive alerts from selected sensors and people

API Integration: cloud API for B2B partner integration and further development.
How does Sentinare's technology work?
Dilpreet Sohi
AltumView's technology uses AI algorithms and sensors to detect and analyze human activities and behaviors, which can help identify potential health and safety risks.